The "Bioenergy in the Schools" program, launched in 2007, builds on the success of the earlier PGP "Science through Art" plant biology project. With the help of a generous grant from the Chevron Corporation to Dr. Pamela Ronald, chair of the UC Davis Plant Genomics Program and director of grass genetics at the Joint Bioenergy Institute (JBEI), plant pathology graduate student Becky Bart and postdoctoral fellow Laura Bartley developed lesson plans and projects for 4th, 5th and 6th grade students, in collaboration with artist Ruth Santer.
In this program, the children learn about potential bioenergy crops for fuel production – in particular, switchgrass (Panicum virgatum L). Switchgrass has been used primarily for forage and erosion control, but has recently received renewed attention from breeders for its potential as a promising bioenergy crop. A fast-growing native United States prairie species, switchgrass is a perennial which does not need to be replanted each year and therefore requires very little irrigation, fertilizer or tilling.
The use of switchgrass has the potential to increase the efficiency of biofuel production by five-fold or more, compared with production of biofuel from food crops such as corn. In order to learn more about switchgrass cell walls, geneticists are leveraging information from rice, a related grass species which is the best-characterized member of the grass family.
So far, through the "Bioenergy in the Schools" program of lectures, demonstrations and drawing exercises, over 200 students at Cesar Chavez and Fairfield elementary schools in Davis, California have learned about biofuel production, plant cell walls and structure and the relationship between switchgrass and rice.
.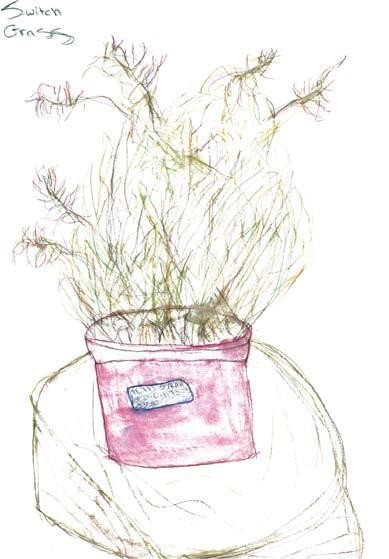 Switchgrass drawing by Kennedy, 5th grade, 2007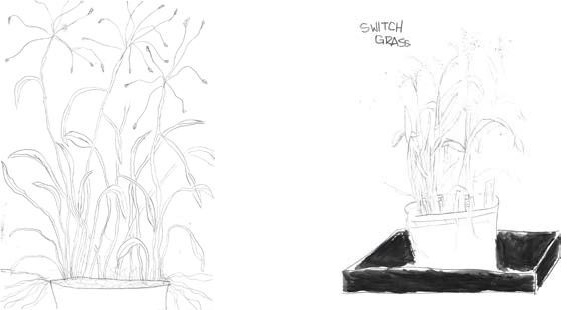 Switchgrass drawing by Kendal, 4th grade, 2007                        Michelle Felmlee-Gartner, 6th grade, 2005